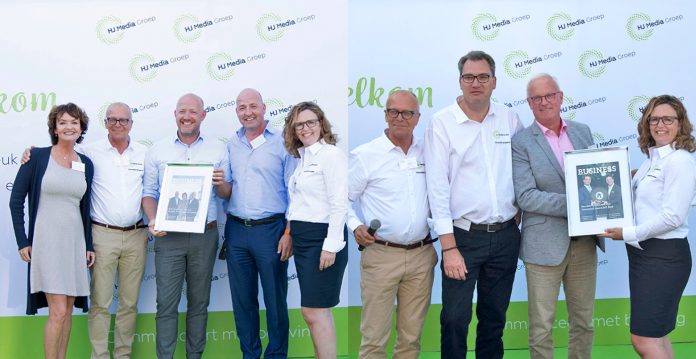 Tijdens het Inspiratie BBQ & BUSINESS Event op 4 juli  bij HJ Media Groep werden de nieuwe edities van de magazines van Port of BUSINESS gepresenteerd. De magazines Drechtsteden en Rijnmond BUSINESS staan dit keer in het teken van technische innovatie. U kunt hier bijvoorbeeld lezen over het inspirerende verslag van de Innovation Award ZHZ 2019 in Drechtsteden BUSINESS en het interview met Martijn Roelands, Rob Uytdewilligen en Nathalie van Huet van AGIN Timmermans in Rijnmond BUSINESS.
Tijdens de bladpresentatie namen Hendrik Jan van der Rhee en Arie van den Herik, namens de organisatie van Innovation Award ZHZ 2019, de ingelijste coverfoto van Drechtsteden BUSINESS in ontvangst en vertelden over dit fantastische initiatief en het belang van innoveren. Ook de geïnterviewden van AGIN Timmermans kregen de ingelijste coverfoto van Rijnmond BUSINESS overhandigd. Zij konden het belang van innovatie alleen maar onderstrepen en vertelden over vernieuwende ontwikkelingen binnen AGIN Timmermans.
Uiteraard werd er daarna onder het genot van heerlijk gerechten en koele drankjes gebruik gemaakt van de netwerkmogelijkheden. Want ook daar draait het om bij het communicatieplatform van Port of BUSINESS.  
Meer weten over de mogelijkheden van HJ Media Groep en/of Port of BUSINESS? Neemt u gerust contact op met Kees van 't Zelfde (06 51429756) of Jurgen Klapwijk (06 23965575).
Dit artikel is partnernieuws en is geschreven door Bianca van Helden van Port of BUSINESS